Doug McIntosh
K-12 Learning Environment Consultant, Writer, and Speaker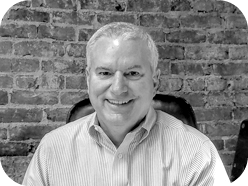 Background
I'm a K-12 teacher who in 2014 completed a successful thirty-five year career in special and general education in San Diego Unified School District. Over this time, I taught Kindergarten and worked with students in all grades. My last four years, I worked with high school students as both an International Baccalaureate Coordinator and Technology Coordinator.
Back in 2009, I created a website called Micro Learning Spaces and later, Collaborative Learning Spaces as an informational service to educators, parents and students based on my work in K-12 learning environments.
I now take my experience and enthusiasm for teaching and learning to continue my journey as an educational consultant with a passion for creating engaging, cozy, and flexible learning spaces.
As a Learning Environment Consultant, I design with a holistic approach to integrate learning design with physical and digital space design. I work directly with parents and educators to bring knowledge of content, pedagogy and technology as a linked circle of learning.
I specialize in customizing an engaging 21st century learning environment with the people within a learning community. I enjoy working directly with district curriculum content and/or maintenance and procurement staff. I also team with progressive vendors, manufacturers, IT and AV partners with system integration expertise.
Learning Space Design Philosophy

Traditionally-
a classroom is a place where students are taught.
a library is a place to research, read or study.
a lab is a place for hands-on learning activities.

a studio is a place where things or performances are created.
Flexible Physical Space Design embodies the pedagogical change from teacher-centered learning to student-centered learning. Here, the physical learning space itself plays a key role in our students' mental and physical well-being within a class and becomes embedded with a school's overall social and emotional learning plans. Traditional learning spaces designed with a singular purpose are transformed to multi-purpose learning spaces. These spaces often feature micro learning and making spaces or zones that allow students more personal and collaborative space within a larger room. This transformation from 20th-century to 21st-century learning spaces uses a new lexicon to describe the metamorphosis from -

Listed above, the three most common learning spaces within any K-12 school now take on a more flexible function as all can become places for learning, collaboration, individual space and active movement contained within the same room. Educators are empowered as interior designers to create a learning space that now includes a broader mix of hard and soft furniture made for school, office/work and home/living spaces. These spaces may also be equipped with a variety of making materials and technology tools appropriate to the age group of students.
The transformation to 21st-century learning spaces are crafted by learning communities with the learning outcome to raise the level of student creativity by providing a social and emotional safe nest for all individuals to thrive within a face-to-face learning environment.
Learning Passions
My learning passions have evolved around project-based learning and physical space layout using mobile and modular furniture and technology to optimally motivate students. Over the years as a classroom and resource teacher of curriculum and technology, I became dissatisfied with traditional direct-instruction practices with a classroom of students all facing a front teaching wall. My approach to integrate learning design with physical space design is surely not unique, but still today remains uncommon across many school district's strategic planning that just seem to focus on technology integration while maintaining teacher-centered instruction.
Many people lean on technology to lead educational system change. I'm more encouraged by the growing movement to focus on crafting well-being into face-to-face learning environments as a catalyst for learning. Students today still need the human touch to guide their conversations and collaborations as they maturate in both physical and digital learning spaces.
As a Learning Environment Consultant, I work with clients to design from the inside out of a school building. Often, we begin with targeting a ground-zero change agent (e.g, a teacher) along with a local champion of the change (e.g, an administrator). Then, we work with the change agent to transform their physical learning space- a classroom, library or lab of some type. By first changing the physical space, we get everyone excited and it rocks the student's world in a very positive and motivating way. And through planning, we connect the constructivist learning and technology design elements. In my experience, transforming one's physical space, is a spark that leads to greater inquiry about what and how to learn.
I believe we were all born to make stuff and believe learning is best achieved in direct human-interaction through collaboration and doing. One's school should be a dynamic place in actual reality for hands-on learning. These interactions, combined with digital tools optimally work in tandem with class-time activities. Above all, students must participate in a quality project-based mapped curriculum program to help facilitate their success' in this century of work and culture.
Today, I bring my passions to working directly at the school level with parents and educators wanting to transform local educational practices and facilities to experience this active engagement. I call my company GROUPWERK not only because I advocate group work as an instructional strategy, but because at heart, I'm a team player who loves the planning and implementation with a project team. If you are interested in my services, please contact me as I can assist your district or school transform traditional learning spaces into engaging learning spaces with your students and staff.
Recent Projects and Experiences
Joe Rindone Regional Technology Center, San Diego County Office of Education
Transformation of 4 learning labs to learning studios - Design phase is completed, ready to implement.
Projected completion - October, 2018
Corcoran Unified School District
Completed 8/10/16
Frontier High School
Kern High School District, Bakerfield CA

From Library to Quest Center - Completed 9/24/15
The Quest Center was designed by a collaborative team that included: school administration, student input, District facilities/construction staff and D&D Resources. GROUPWERK, Inc. (Doug McIntosh) was brought into this project by D&D as part of their team. The school's vision was to take an existing traditional library set up of rectangular tables and chairs and transform it into a 21st century learning space divided into unique learning zones.
See before and after project photos at http://groupwerk.net/questcenter.php
Washington Elementary
San Diego Unified School District

January 2015 – June 2017

International Baccalaureate Coordinator
Mission Bay High, San Diego Unified School District
–
Coordinator of the International Baccalaureate Diploma (DP) Programme curriculum and in the last two years, consecutively raised the number of IB full-diploma candidates and graduates to all-time highs for the school.


I also coordinated technology integration across the campus and created collaborative learning spaces in the Library and classrooms through a Federal Magnet Schools Assistance Program grant (MSAP). See project photos at http://groupwerk.net/mbhs.php
Educational Technology Resource Teacher
San Diego Unified School District
–
Along with Ed Tech Program Manager Dan Wolfson, we created the concept and design of the i21 Technology Initiative in SDUSD in 2008-2009. http://www.sandi.net/i21

Previous to that experience, I created the concept and design for classroom and Library technology in Prop. MM new schools construction. As an Ed Tech Resource Teacher, I worked closely as a team member with central office staff, including: Instructional Leadership, IT, Procurement and Material Control and Physical Plant Operations.


As a team member of Ed Tech, I co-designed and implemented technology integration professional development with thousands of K-12 teachers in their classrooms, schools and Ed Tech facility.


I created 21st century learning spaces in SDUSD schools through Ed Tech and the Magnet Schools Program Office.

I helped pioneer modular and mobile furniture in the District by putting most everything on the floor- chairs, desks, tables and storage cabinets, on casters.
Working with District staff, I brought in sofa chairs, couches, bean bag chairs, gym mats and pillows to create a variety of classroom learning spaces.
I put 2 short-throw video projector systems on separate walls in the class and linked them together or separately for small group work displays.
I created a stand/sit adjustable desk with document camera and laptop as a District standard presentation station for all classroom teachers.
I worked with the teachers to move further away from direct instruction to inquiry-based instruction.
I teamed with motivated teachers to made their learning environments more stimulating and the students felt more relaxed while learning. It was only the beginning for me and now the learning spaces movement is starting to get some traction in the last couple of years across the country.
I'm very excited and positive about the future of learning environments in the United States and I'm actively working to collaborate with people who share this passion and want to transform our education system as a national priority.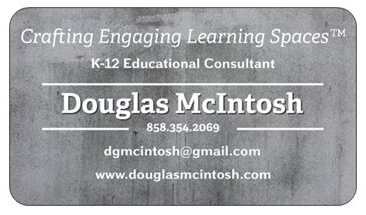 Follow a couple of Doug's other passions @
"True friendship multiplies the good in life and divides its evils. Strive to have friends, for life without friends is like life on a desert island... to find one real friend in a lifetime is good fortune; to keep him is a blessing."
— Baltasar Gracian

"True friendship is when you walk into their house and your WiFi connects automatically."
— Anonymous