Professional Learning Community (PLC) Room and Lounge
Washington Elementary STEAM Magnet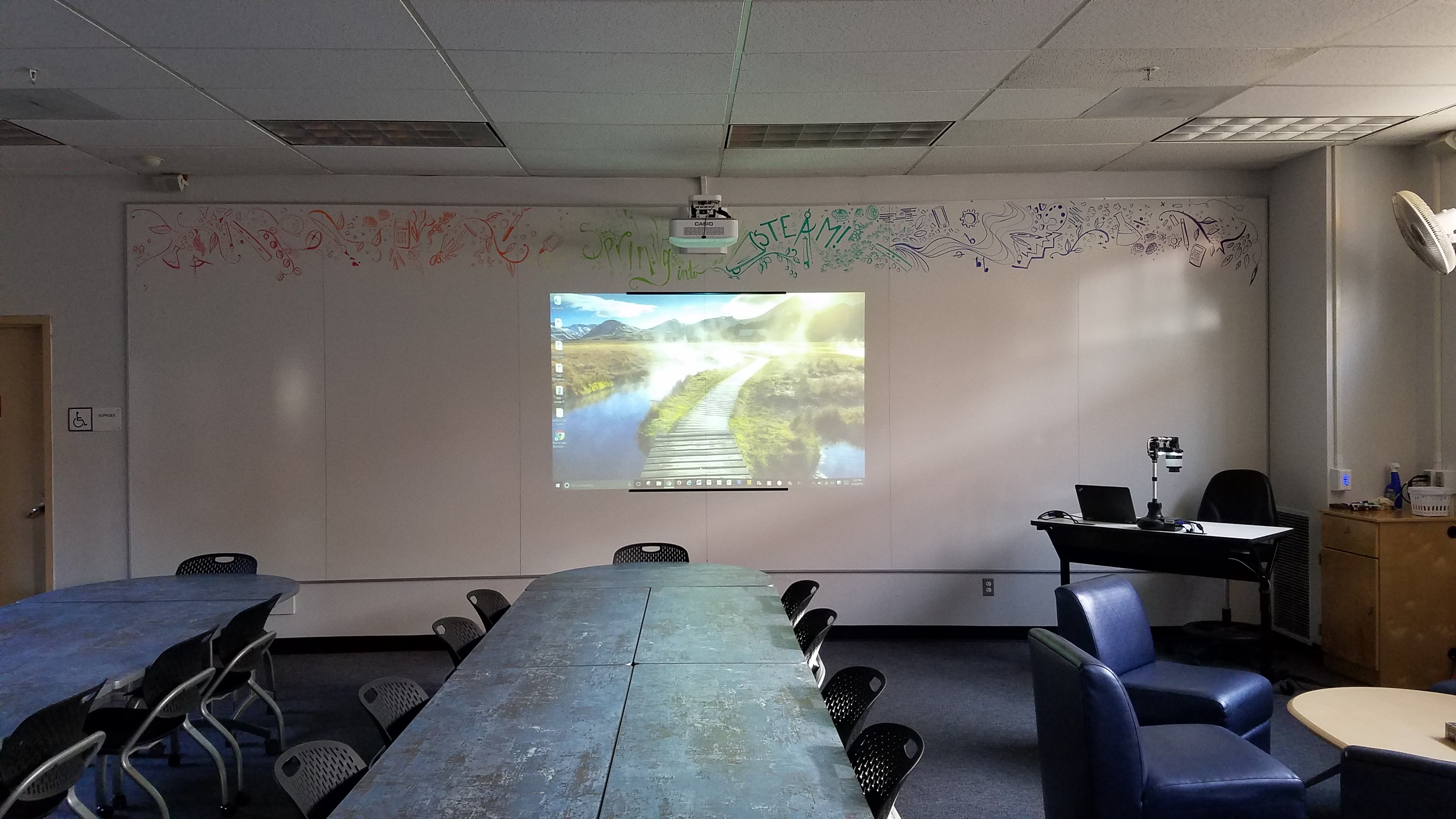 I used the following technology and furniture to design this multi-purpose space.
24' L x 8' H Whiteboard Wall with Casio Short-throw Video Projector System and wall controls
65" Samsung TV connected to video projector as a second display or used as a stand alone data display or television.
10- Bretford 24x60" Flip Top Nesting Tables w/ casters
4- Bretford 48" Flip Top Nesting Half-Round Tables w/ casters
1- Bretford 24x48" Connections Presentation Station w/ white laminate for doc cam
1- Bretford 4 leg table 30x60" w/ casters

(kitchen area)

24- Bretford Explore Chairs w/ casters
5- Existing sofa chairs and coffee table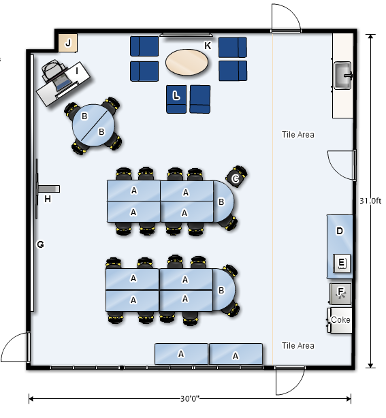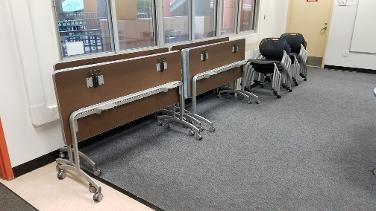 Nesting rectangular tables and stacking caster chairs provide flexibility to repurpose space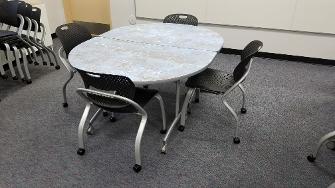 Using two half-round tables for a small group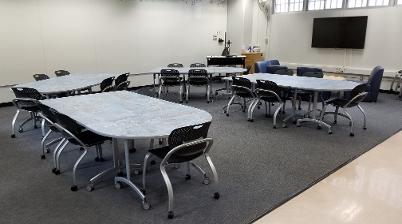 Four collaborative groups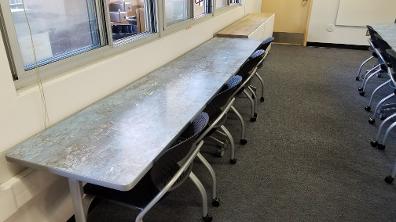 Single tables by the windows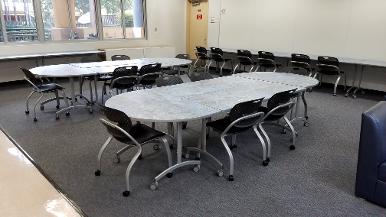 Two rectangular tables with two half-round tables as end caps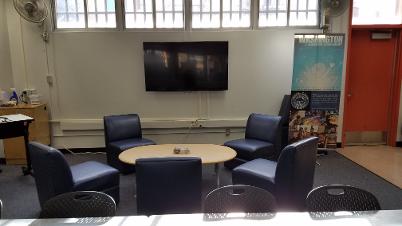 View of 65" Samsung TV connected either as a separate display or TV, or used as a second display with the Casio video projector. The five blue sofa chairs and coffee table provide a comfy space for a smaller group.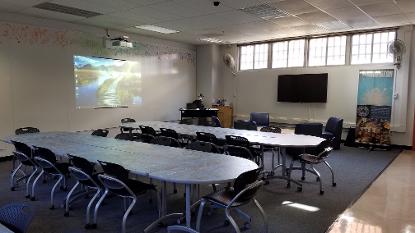 Door view entering room, default room set up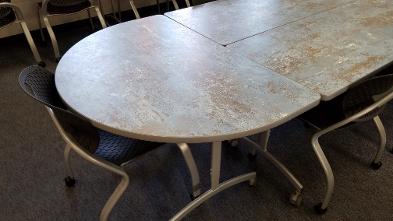 Half-round flip-top table used as end with rectangular flip-top nesting tables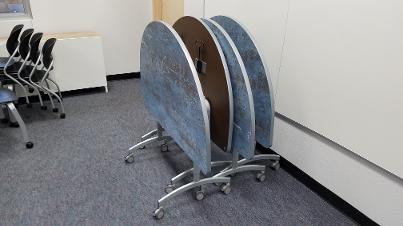 Nesting half-round tables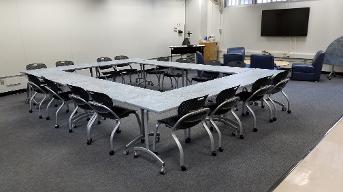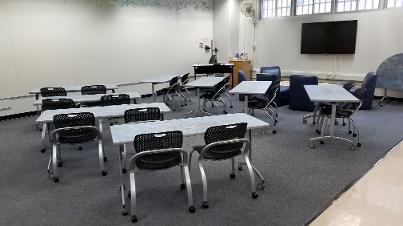 Single tables angled to the white board wall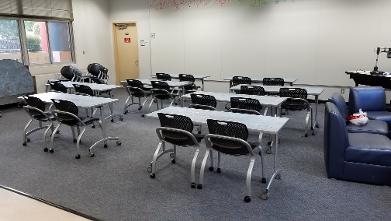 Single tables facing the whiteboard wall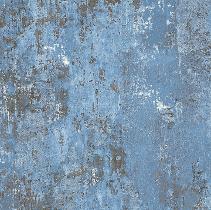 Wilson Art Laminate table tops -
Cornflower Milk Paint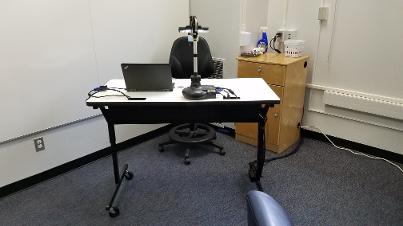 Used an original Presentation Station that I designed for the SDUSD i21 Technology Initiative with teacher laptop and document camera. Cables run to cabinet to control audio amplifier/speakers and new video wall control.
I would like to thank the following people for their leadership and participation in this project.
David Crum, Principal at WES
Nicole Paquette, Admin. Assistant at WES
Mack Jackson, Building Site Supervisor at WES
Jerry Van Wey, President of Integrated Technologies Group
Dean Smith, President of D&D Security Resources
Shawna McIntosh and Rodger Ashworth, Resource Teachers at WES
Leah Pantea, Art Teacher at WES