Soft Seating (Gathering) Benches
Soft seating benches are often modular by design as in the example shown here where straight and angled pieces create a unique sitting space. You could use one piece in a classroom but these modular benches work best in libraries or gathering spaces.
These soft benches give students a break from most hard seating in a school environment and create a comfortable space for social gathering interaction.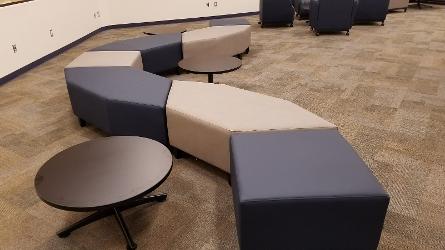 No part of this publication may be reproduced, distributed or transmitted in any form or by any means, including photocopying, recording, or other electronic or mechanical methods, without the prior written permission of the publisher, except in the case of brief quotations embodied in critical reviews and certain other noncommercial uses permitted by copyright law. For permission requests, write to the publisher, addressed "Attention: Permissions Coordinator," at the address below.
Groupwerk Publishing
615 Second Ave.
Broderick Building, Suite 340
Seattle, WA 98104