Round Activity Tables with Casters
Round tables with casters are not that common as a standard product sold to the general public. In the education market round tables are often called Activity Tables that are height adjustable with a hex screw and are typically 48" in diameter. Traditional activity tables have four legs and come with glides only.
In K-12, round table need to have options for mobility with locking casters and height adjustment so that like other MobiMod™ style furniture, you can move and change up your learning environment quickly.
Here is a more progressive example from Wisconsin Bench where I was able to design a 48" round activity table (for Santa Ana Unified School District) using a center pedestal with four casters. This WB table is also a flip and nest table!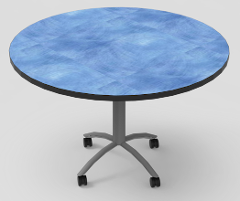 No part of this publication may be reproduced, distributed or transmitted in any form or by any means, including photocopying, recording, or other electronic or mechanical methods, without the prior written permission of the publisher, except in the case of brief quotations embodied in critical reviews and certain other noncommercial uses permitted by copyright law. For permission requests, write to the publisher, addressed "Attention: Permissions Coordinator," at the address below.
Groupwerk Publishing
615 Second Ave.
Broderick Building, Suite 340
Seattle, WA 98104