MobiMod™ Learning Spaces
MobiMod™ physical space design is the orchestrated use of mobile and/or modular furniture and technology that helps facilitate student engagement within a face-to-face learning environment.

In many school districts, a typical classroom whether old or new is about 960 square feet. If you divide that by 36 students in many middle and high school classrooms, that leaves about 26.6 sq. ft. per student. If you add a teacher desk or presentation space, built-in cabinets and other items that eat up floor space, students have even less space. Students live in this space (or multiple similar spaces) five days a week, often in a fixed positioned desk facing a teacher at the front of the room.
To flex minds, we need to flex classroom space. Classrooms whatever the size, need dynamic MobiMod™ style classrooms to increase student interest and reduce their daily stress. The key to MobiMod™ is movement, students need to fidget, rock, swivel and stand. Movement is what keeps our brains stimulated and helps prevent mental fatigue. So, if we are given only 26 sq. ft. per child, then let's redesign the existing interior space and craft a multipurpose space using mobile and modular furniture and technology to optimize movement and the learning will follow.
See a MobiMod™ classroom I created with teacher Melissa Romero at Mission Bay High School.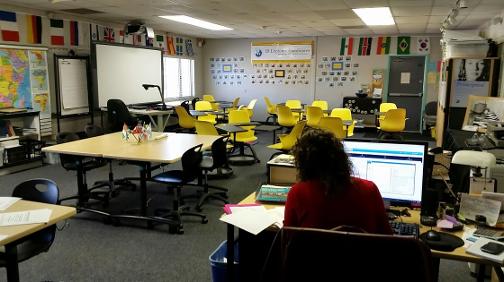 Shown here is the professional development classroom I created at MBHS. Except for two office desks, every piece of furniture is on casters.
Here are six key areas I specialize to craft
MobiMod™ learning spaces with schools.

Groupwerk, Inc. Copyright © 2009-2018. All rights reserved.