Learning Studio
Transforming K-12 Classrooms, Libraries and Labs to Learning Studios
What is a Learning Studio?
By definition and tradition,
A classroom is a place where students are taught.
A library is a place to research, read or study.
A lab is a place for hands-on learning activities.
A studio is a place where things are created such as art, music or film.
Learning studio
physical space design is the
transformation of traditional K-12 classrooms, libraries and labs from rooms designed with a singular purpose to a multipurpose orchestrated space for learning and making. Learning Studios use a variety of school, work and home furniture combined with building materials and
technology tools that helps facilitate student engagement within a face-to-face learning environment.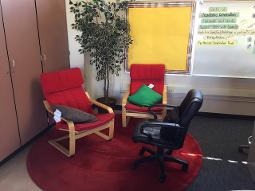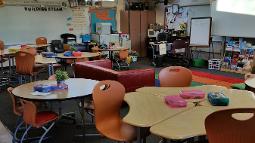 Classroom to Learning Studio
Here, a learning studio is a hybrid of a classroom, a studio and a Starbucks® lounge.
A learning studio transforms a typical 960 square feet classroom of desks and chairs, to an eclectic layout of soft and hard furniture found in home, office and school environments. In a learning studio, students may not have assigned seating as the room is setup with a variety of micro learning and making space furniture and equipment- some for sitting, some for standing, some for laying. It is a place where the physical environment is designed to optimize active collaborative work.
Why do classrooms need to change to a learning studio setup?
Classrooms should reflect the curriculum. Most classrooms are still designed in the model of the industrial age with all the same old desks and chairs in rows or fixed pods that never move, much like a factory.
As the United States slowly moves to more of a inquiry/project-based curriculum, the focus is shifting from a teacher mostly standing in front teaching, to teachers orchestrating the learning process through collaborative and making activities . We are moving from single subjects being taught at a specific time period to integrated subjects designed through a project as students, think, create and make together. This approach models the real world and much of our current world of work.
Take a look at the
Washington Elementary 3rd Grade Learning Studio
, I helped design in San Diego, CA.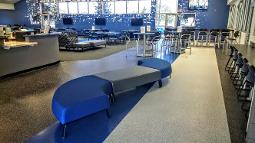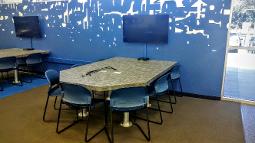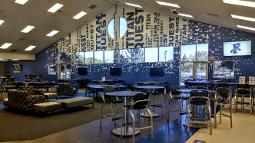 Library to Learning Studio
Here, a learning studio is a hybrid of a library, media center, meeting space and hotel lobby.

A learning studio transforms a traditional library of book shelves and study tables into a school's cultural and digital hub. As a learning studio, the library becomes a multipurpose environment made up of different learning zones.
Learning Zones
Gathering Zone
Charging Zone
Genius Bar/Cafe
Desktop Computer Zone
Study Zones
Research Zone
Teaming Table Zones
Library Books Zone
Classroom Zone
Take a look at the Frontier High School Quest Center, I helped design in Bakersfield, CA.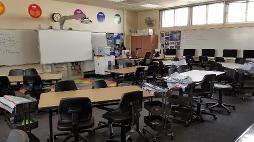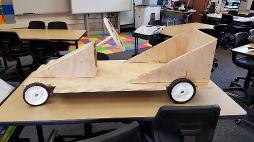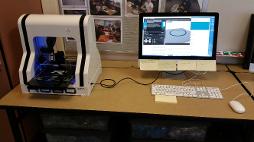 Lab to Learning Studio
Here, a learning studio is a hybrid of the traditional lab's function combined with specific elements of a maker space.
A learning studio transforms traditional science, computer or engineering lab into more interdisciplinary project-based hubs for a school. We acknowledge the need for specific labs like a chemistry lab to be set up in a standardized setup for safety and function. However, most computer labs for example might better service the curriculum if set up with a combination of computers that include furniture for writing or building combined in the same space to better facilitate projects.

Micro Making Spaces
Nesting Tables and Task Chairs with casters to repurpose the space
Mobile Workstation Utility carts used next to nesting tables
Desktop Computers and Tables with locking cord management tray
Lego Wall
3D Printers
Floor mats for individual or group floor work
Storage cabinets using plastic containers to organize Robotic kits and STEAM resources and materials
Mobile whiteboards
Take a look at the Washington Elementary STEAM MakerSpace, I helped design in San Diego, CA.
What is and who are leading this change in American schools?
Common Core Standards
provide a project-based structure for what to teach across the United States. Along with the
Next Generation Science Standards
, these national standards get are nation's schools on the same page. These standards are evolving but represent a progressive change to keep our young people competitive in an ever present world economy.
Currently, this transformation is best seen in individual teachers who embrace how to teach and learn in a 21st century curriculum. These teachers get the importance of integrating project-based and collaborative learning into their physical and digital spaces. These teachers have in effect created a positive, engaging learning environment for their students and themselves.