Interactive Short-Throw Video Projectors
I have used many different video projectors over the past twenty-five years. If you can, try to get a short-throw wall mounted video projector that works above a dry erase whiteboard. Take my free advice and do not buy a separate interactive whiteboard (IWB) system with a dedicated board. IWB units with a dedicated board just kill the existing whiteboard or wall space in a classroom. Also, see my Whiteboard Walls solution.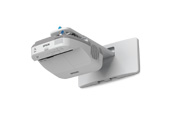 Note- This is only a public introduction page. I have specific manufacturer/vendor products, services and pricing to share with my clients and their associates to meet district, school and/or individual learning space needs.