Interactive Flat Panel Displays
Interactive flat panels are powered by an Android-based Mini or Windows PC that creates a captivating, tablet-like experience in the front of the learning space. This unique design enables schools to upgrade the device's performance over time to keep pace with rapid advances in computing technology. The cost of all flat panels have dropped to the point where I no longer recommend video projectors unless for a specific application such as needing a very large display in a large room. However, flat panels can solve that problem too with multiple mirrored or individualized fixed or mobile displays. In most learning spaces I often advocate for at least one fixed interactive display and one mobile cart display.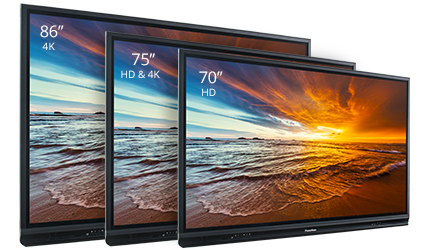 .
No part of this publication may be reproduced, distributed or transmitted in any form or by any means, including photocopying, recording, or other electronic or mechanical methods, without the prior written permission of the publisher, except in the case of brief quotations embodied in critical reviews and certain other noncommercial uses permitted by copyright law. For permission requests, write to the publisher, addressed "Attention: Permissions Coordinator," at the address below.
Groupwerk Publishing
615 Second Ave.
Broderick Building, Suite 340
Seattle, WA 98104